Comprometidos con todos los estándares de calidad.
The ocean around the Canary Islands is home to a great diversity of animals. The conjunction of several factors, both biological and geological, have made this island a unique place in the world, currently home to 38 marine mammals out of the 80 catalogued throughout the world.
These waters plenty of nutrients have made it possible for different types of whales and dolphins to coexist. For this reason, this area is considered one of the best in the world to observing different species of cetaceans.
The sighting of dolphins, whales, sea turtles and various birds in their colonies is frequent throughout the year on this island. So, if you decide to visit Tenerife you cannot miss this experience.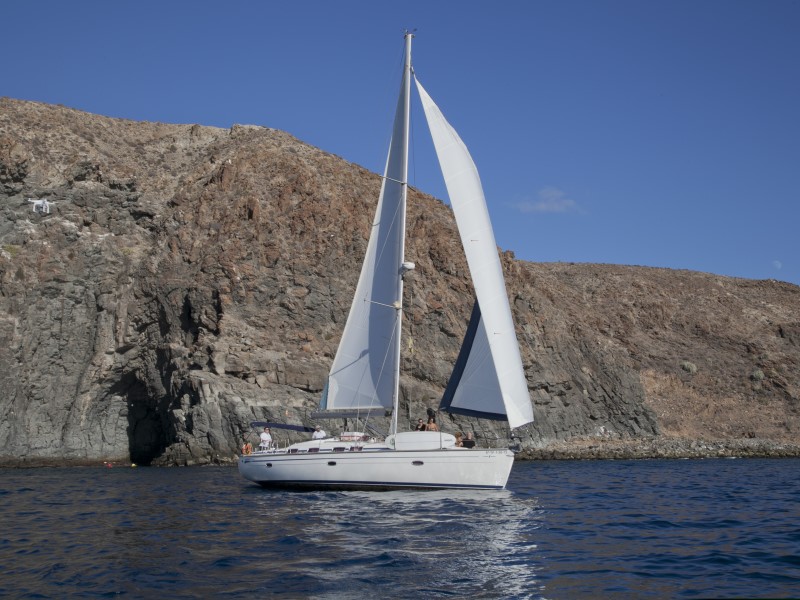 To live this amazing experience, you will only need to hire a Boat Trip Tenerife . Once on board, you will be able to see those adorable animals, with their typical funny and unpredictable behavior, in total freedom within their natural habitat.
Few agencies are licensed to provide this service and usually bear the "blue boat" distinctive: a flag all authorized vessels must have in order to legally offer whale watching sail trips. One of those agencies is Picarus Sailing Club.
At PicarusSailingClub expert seamen give the tourist the opportunity to live an unforgettable experience, in a sustainable way and with total respect for nature. You will be able to enjoy a navigation day off the coast of the Rasca protected area, where different types of sea turtles and colonies of birds live.
During the navigation, you will be able to enjoy the sighting of typical cetaceans of the area such as bottlenose dolphins and pilot whales, marine mammals measuring up to 16 ft (5 meters) in length and weighing between 1 and 2 tons.
And if you're lucky enough, you will be able to spot various marine species such as spotted dolphins, tropical rockfish or any of the 38 species of cetaceans that inhabit the waters of Tenerife.
Boat crew includes a marine biology expert, a tour guide and the captain. The biologist will be informing and teaching passengers about the marine species that live around the island, which usually appear during the excursions. There are many species that reside locally, while others are migratory and are usually seen at specific times of the year.
Picarus Sailing Club complies with all the health protocols established towards the prevention of COVID-19. Therefore, their activities have been limited to groups of up to 6 passengers.
Tenerife's marine life diversity
This nature-blessed area, in which the Picarus Sailing Club excursions take place, protected by environmental authorities. The coastal strip called "Rasca-Teno" is the natural habitat for different species of cetaceans, so they are frequently easy to spot.
The pilot whale and the bottlenose dolphin are the species most frequently seen during the Boat Trip Tenerife.
The bottlenose dolphin is gray and measures between 7 and 10 ft (2 – 3 meters) long. It can weigh between 320 and 1,100 lbs (150 and 500 kg) and lives for about 30 years. They generally travel in groups of around 10 to 30 specimens, so it's common for visitors to see them swimming near the coast.
The pilot whale, is a cetacean over 13 ft (4 meters) long, easy to recognize by its domed head and broad dorsal fin. It can weigh up to 2 tons and its skin is dark gray, almost black.
With a bit of luck, you will also be able to spot some species that come to the Tenerife waters at certain times of the year. One of them is the baleen whale, also known as glacial or North Atlantic right whale, measuring between 80 and 90 ft (24 and 27 meters) long, which can be seen between autumn and spring. The common dolphin is another species usually seen during the winter. And the false killer whale, which is actually a dolphin, can be sighted between spring and autumn.
The spotted dolphin, the smallest of the cetaceans that inhabits these waters, can be seen in spring or autumn. Other less common cetaceans such as the sperm whale, which seldom rises to the surface; striped dolphins, tropical rorquals and rough-toothed dolphins can be seen as well.
Picarus Sailing Club: the tourists' best choice for watching cetaceans in Tenerife
If you come to Tenerife, the Picarus Sailing Club crew will make you live an unforgettable experience. They are not only experts in marine biology, but also excellent hosts. With their help, besides whale and dolphin watching, you can enjoy other activities such as paddle surfing, snorkeling or a pleasant swim in the sea.
Delicious home-cooked meals will be served on board, and your hosts will take care of all the details on the ship. At your request, they can pick you up at the hotel and at the end of the day they will drive you back.
You will definitely not regret hiring an excursion boat in Tenerife with Picarus Sailing Club.